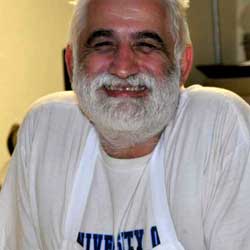 Master Baker Jackie Jegat, the owner and founder of Paris Bakery, was born in Doué-la-Fontaine, France where he began his baking career at the age of 16. He started as a baker's apprentice for a shop in Saumur, France. After two years of apprenticeship, he moved to Paris. In 1978, at age 23, Jackie opened his first bakery in Chatou, a suburb of Paris, where he soon brought his brother Eric to serve as his apprentice.
In 1979, Jackie opened a new bakery in the 10th Arrondissement, Rue Faubourg St. Martin. After much success, he made his way to San Francisco in 1981. There, he worked at Bakers of Paris. Four years later, in 1985, Jackie moved to Monterey, and bought Maison du Croissant on Bonifacio Place, initially calling it Le Montmartre (now known as Paris Bakery). Jackie had become so busy he sent for his brother, who was still in Paris. Eric moved to Monterey and worked with his brother. In 1986, Jackie opened a wholesale warehouse in Seaside. The Wholesale department has been supplying fresh baked goods 365 days a year to Monterey Peninsula's well renowned restaurants, hotels, coffee houses, and delicatessens.

In early 1987, Jackie met Sonja, who had a small bakery on the other side of town. It was not too long after that Sonja sold her business to join Jackie and make time for the arrival of their first baby together. Their love of baking and family was obvious - Jackie's girls Angelique and Vivianne soon came from France to live with their dad and Sonja, continue their education, and enjoy their new little sister Stephanie, and work in the family business. In 1993 not only did they expand the bakery to the adjoining building, they expanded their family with soon to be born Olivier. With their outlook and philosophies very much alike, they finally got married in 1995, with the ceremony planned around their working schedule - which led to a simple wedding after work in the bakery.
As the children have grown, they have all been very much a part of the bakery - some help out when they can and some hope to carry on the tradition for years to come. Currently Vivianne is running the wholesale department and helps her dad out with the Monterey store. Jackie's brother, Eric, has opened up his own bakery in Cottage Grove, Oregon. Jackie, now 56, is still baking 7 days a week. He says he's never felt better and is happy to see his bakery full of satisfied customers.